POSSESSING THE LAND
BUILDING THE KINGDOM
GOD IS MOVING HERE AT GRACE! TAKE A MOMENT TO SEE WHAT'S HAPPENING!

Welcome to our Building Campaign! We are embarking on a journey of "Possessing the Land, Building the Kingdom." God has made some amazing provision for us as a church and the time has come for us to step out in faith! God has moved in the heart of our neighbor to provide us with almost 5 acres of land. Now our task is to develop our facilities to take advantage of the land.
As a church, we have outgrown our facilities and are in great need of expansion. Our desire is to take this step of faith in expanding our impact and reach in our community. Check out videos, testimonies, and the campaign booklet below. As you check out what the vision is for the future of our church, ask the Lord to show you how you can be a part of this exciting opportunity.
— Pastor Wayne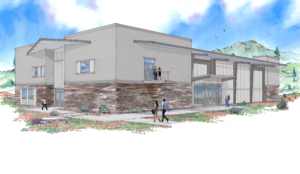 Artist's rendition of future building.
"This church, for us, is not just a place we go—it's a family. Through different hardships we have faced, the members of this church have rallied on our behalf in intercessory prayer, and treated us as their own kids—and our kids as their grandkids. This is what a church should be like!"
Kim & Caleb
Chunglo
"Knowing that this church always opens its doors to those who want to serve the Lord makes it a place you can call home and find passionate people with the heart to give."
Ed & Sue
Bloomfield
"I am excited to watch how God will use this building project to strengthen our faith, and see the impact it can have on our community. I'm also excited about having a commercial kitchen where we can cook meals and celebrate together as one family in one location."
Mary Ann
Thiessen
"We are most looking forward to being able to enjoy events and activities that the whole church family can attend together at our own facility."
Charlie & Jan
Henry
"A new building that can seat over 700 people combined with Grace Baptist Church's desire to be intentional in community involvement can and will have the potential of reaching people county-wide. Having the space for this many people opens the door for many creative ministries like more Bible studies, international student ministries, and much more."
Nikole
Hahn
"When we came to Chino Valley, we visited Grace and knew we'd found our church home. The Word preached correctly, warm and caring people, and great fellowship—everything we were looking for."
Dolores
Bartleson
Messages from
the Leadership:
Closing Words
from Pastor Wayne:
Celebration
Sunday Recap: